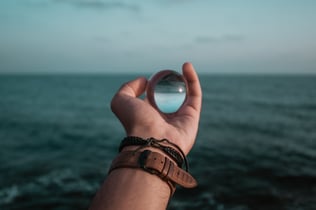 What does it mean if you have been designated as the person "in charge" of a metadata management solution such as the Data Cookbook? What responsibilities does this entail? What skills are needed? How is authority wielded? These are some of the questions we will answer in this blog post.
We will begin with authority. Authority in this position is usually personal and not administrative. Personal authority in the workplace is where your authority is instilled by those around you instead of instilled by administrative hierarchy. Personal authority is established over time through trust, competence, communication and sharing a common purpose with individuals who play a role in data governance (also called data intelligence). For example, dozens of people may contribute metadata. These individuals do not report to you, nor do they all report to the same person. As the solution owner, you should promptly respond to inquiries about the solution. Anticipate the hurdles that metadata contributors will face and seek to remove or reduce these hurdles. Listen to their issues. Provide accurate information.

As the owner of a metadata repository, what is being "owned"? The metadata content is what is owned. Sometimes there is confusion between owning the metadata content verses owning the application in the way that an IT system administrator "owns" an application. IT system owners focus on latency, up-time, and upgrades in their system administrator ownership role. Data governance solution owners are not primarily concerned with these things. Instead, ownership is exercised over the content, such as glossary entries, quality rules, quality standards, report descriptions, tags, keywords, and valid value lists (reference data). As a data governance solution owner, you might establish volume goals - how many glossary entries should be written by the end of Q3? Should HR reports be documented before or after Finance reports? You might establish editorial content standards so that metadata contributors' entries read with similar tone and grammar.

The skills needed for this ownership role are similar to the skills of a facilitator. For example, an owner should prepare in advance for any interactions with metadata contributors, anticipating gaps and questions. Communicate clearly regarding expectations and process statuses. When is the contributors' work due? What is the process for submission? Communicate with both new and experienced contributors. Provide a web page describing the metadata management solution's purpose and how to access it. Listen actively to the roadblocks experienced by contributors. Ask questions to gauge training needs. Do timekeeping, both in the context of a meeting and the context of weeks or months, such as when a data steward promises fifty definitions by a mutually agreed deadline. Establish a collaborative environment where contributors feel comfortable asking questions and receiving feedback. Create a focus amongst the group of contributors and remind the group of this focus. Maintain unbiased objectivity. These are the skills that a data governance solution owner needs.

The tasks required in this role include training and work output monitoring. Training for new staff and refresher training for all staff should be periodically available. Offer face to face training as well as provide a portal for self-service learning so that a wider range of learning styles can be served. To monitor work output, review the volume of work by contributor and by domain, and let people know that you are monitoring. Choose a weekly, monthly, or quarterly schedule and stick to it. Monitor the quality of the metadata. Is it readable? With twenty people providing definitions, is it editorially consistent? Establish content standards and assist contributors in meeting those standards.

The position of a solution owner often resides within an Institutional Research/Analytics Department or in an Information Technology (IT) Department. Whichever area the position is based in, the owner should develop a working relationship with the other department. Collaborate on timelines and goals. Understand the skills that staff in both departments bring to the effort. Through your relationship with the other department, focus on their metadata goals, their timelines, and assess the skill set for publishing metadata. Strive to share the same focus. What if the solution owner does not work in the Analytics or IT Departments? Perhaps the position reports to a senior administration such as a vice president. In this case, develop relationships with both analytics staff and IT staff who manage data. Ensure that the relationship between analytics and IT works effectively. Metadata content owners who report administratively often have some administrative authority that is inherited from a vice president.

In summary, someone who is "in charge" or the "owner" of a metadata repository, such as the Data Cookbook, uses excellent facilitation skills to manage people and work processes that produce metadata. The owner communicates and works with others to ensure the success of the solution and of data governance (data intelligence) at the organization. Hope you found this blog post helpful.
Our library of data governance related resources can be found here.
If you need help in implementing data governance or data intelligence, remember that IData provides data governance services. A data governance solution like the Data Cookbook can help in successful implementation of data governance at an organization and improving data quality. Feel free to
.
(image credit: StockSnap_JI6OJLFYQO_holdingobject_solutionownership_BP #1171)