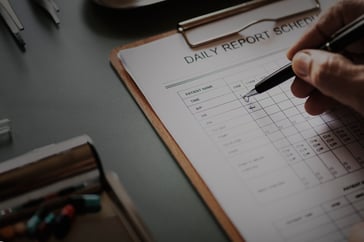 In an earlier post we covered components of a data quality program, data quality rules and data quality assessments. The last post in this Data Quality series recommends a process to address data quality issues as they arise.

A data quality issue is a real or perceived inaccuracy discovered anywhere in the data environment. I say "perceived" because sometimes a data user thinks there is an error in calculation when in fact the error is in the user's interpretation. More on that situation later in the post.

A key part of managing quality issues is the ability to funnel issues from multiple communication channels into a single issue tracking system. One communication channel, and this one could be automated, is through the Quality Rule Assessment process. When the threshold of a quality rule is broken, that event should be automatically routed to the quality issue tracking system.

A second channel or source of issues is staff who work with data as their primary job, such as data steward or report writers. Because they work with a high volume of data, and have a high knowledge of the meaning of data, these staff often discover genuine issues. An issue tracking system with a web form or email integration lets staff conveniently submit the issue and move on with their work. The expert data user needs convenience in the submission process. Experts may have skills that allow them to compensate for the issue and not take the time to report it. In other words, they can successfully work around issues and may not bother to to report errors, particularly if they do not trust that the issue will be resolved. They also may not remember if an issue has been reported. An easily searchable catalog of issues would motivate the expert user.

The last source of issues are data consumers who discover a real or perceived issue in a report or dashboard they are viewing. Data consumers vary in their depth of data knowledge. The root cause of issues raised by this group can be in misunderstanding data rather than actual data error. This user type values a responsive issue tracking system. A quick acknowledgement and friendly communication for resolution would motivate this population to submit issues.

Regardless of the submission source or communication channel, all quality issues should be addressed using the same process.

The key steps in the process are:

Acknowledge receipt of issue.
Research issue to learn root cause. Is this a real or perceived error? What caused it? What is the risk if the error is not immediately fixed at the root cause? What resources are needed to resolve?
Decide whether to resolve at root cause or ad hoc. Base the decision on risk and resources. Record the decision.
Resolve issue.
Inform submitter of outcome.
This process is best managed via a service ticket system designed to keep track of specific steps in the process. Steps 2 through 4 may be assigned to different people and may be time consuming to resolve. The ticket system should provide a searchable archive of issues that makes it easy to search or audit issues. An archive makes it easy to quantify the resources spent on resolving issues.
Feel free to check out our other data quality resources in our data quality resources blog post.
If you need help in implementing data governance or data intelligence, remember that IData provides data governance services. A data governance solution like the Data Cookbook can help in successful implementation of data governance at any organization and improve data quality. Feel free to
.
(image credit StockSnap_DBRAYDPLP1_checklist1 #1076)