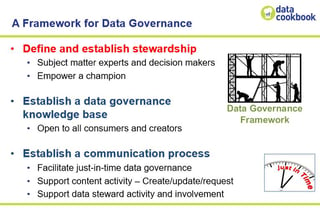 One of the three components of a data governance framework is data stewardship which is defining and establishing stewardship. Stewardship involves people and these individuals have an important role to perform. Organizations have many names for data stewards and there are many different types of data stewards. Make sure that you have the right stewardship for your organization. You need data stewards that are assigned to the necessary role and know their role in the data governance process. This blog post discusses the types of stewards, the roles they fill, examples of their tasks and how to match staff to the roles.
One thing that's important about setting up stewardship is to play to your staff's expertise and split into separate roles:
Business Rule Expertise - People who understand an area and what the data means and how the data should be used.
Technical System Expertise – People who understand where the data resides and how it can be accessed.
Oversight – People who are going to monitor the stewards, set the vision, help the stewards, review definitions, provide training and make sure that things are moving along.
It is rare to find people who have both business and technical expertise so allow for the splitting into separate roles where it's important. Data stewards must also deal with the various data governance content (definitions, data requests, data system inventory, data quality assessment, reference data lists, etc.). Make sure that the data stewards are comfortable for the tasks in their role. And make sure that they are aware of the data governance priorities to focus on.
Some data steward task examples include:
data definition needs to be written
data request needs to be managed
data quality issue that needs to be reviewed
reference data list needs to be defined or changed
security classifications or access details need to be setup
You can split up your stewardship and subject matter expertise by activity as well as by content. See more information on this in our "Data Steward Matrix" blog post. But in summary there are two matrixs that can be used:
Build a simple matrix - defining data stewards by functional area such as department or ERP can be done with a simple matrix
Build a more complicated matrix – defining data stewards by different types of content and activities would require a more complicated matrix. This doesn't mean that you must have a different person for each box in the matrix
And you will be changing the matrix as new people are hired or new data governance activities are created so we recommend not to do it by an individual but by role instead. Maybe an HR role, so people can be moved in and out of those roles. You really want to allow for and promote someone who is going to pull everybody along. Data stewardship is one of the key foundations of data governance. If you would like additional resources on data stewards and data stewardship feel free to access our "Data Stewardship is Critical - Here are Some Resources" blog post.
Hope this blog post was beneficial to you and your organization. IData has a solution, the Data Cookbook, that can aid the employees and the organization in its data governance, data stewardship and data quality initiatives. IData also has experts that can assist with data governance, reporting, integration and other technology services on an as needed basis. Feel free to contact us and let us know how we can assist.
Credit DGFramework_Stewardship_BP #1051