We say that "Data governance is about best practices designed to help people access, understand, connect, protect, and effectively use your organization's data across all systems". The key words are "help people". In the past, many felt that data governance was about controlling, protecting, and stopping people from doing things. Nowadays, it is more about facilitating the use of data and helping people be more successful. We are not in love with the term data governance. We like the term data governance and guidance better as it is about bringing subject matter expertise, facilitation, and support to the use of data in your organization as opposed to just control (data intelligence is another term we like). IData's Aaron Walker wrote an excellent blog post titled "Data Governance is Foremost About Helping, Not Controlling". This blog post reinforces Aaron's thoughts.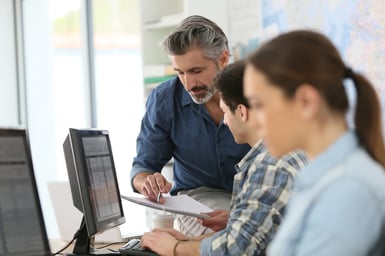 Data governance often has a bad reputation. Rightly or wrongly, people think that it is just too much to take on, that it introduces additional, and unnecessary, layers of bureaucracy, that its procedures are onerous, confusing, and restrictive. Data governance should not be about command-and-control. Yet at times could become invasive or threatening to the work, people, and culture of an organization. Sadly, this is often the case.
That is why we suggest just-in-time data governance and having a data governance framework with the use of the Data Cookbook. Data governance focuses on formalizing existing accountability for the management of data and improving formal communications, protection, and quality efforts through effective stewarding of data resources.
Initially, look for projects, processes, or business domains that are good candidates for data governance. Start with the users or business areas that are experiencing the most pain (help those that need it the most). Look for areas or people who:
are frustrated because they do not know the status of their data requests. Data governance removes this frustration.
disagree with others on the definition of terms and definitions which wastes their time. Data governance removes this disagreement.
mistrust the data. Maybe there are data quality issues or a lack of understanding of the data. Data governance improves the trust in data and improves data quality.
Here are some suggestions for helping people:
Expand self-service. Make it easy for people to find information and report issues.
Establish processes, standard, policies and templates that will help people do their job better and easier.
Create a data system inventory with access information so that people can learn more about their data and get access to the information they need.
Empower data stewards and let people know who to go to for quick answers.
Work to get common understanding where possible and document the differences when necessary. Make it for the masses and then refine. There will be less confusion (and more happier people) when similar language is used or where differences are explained. It is easier to work together when speaking the same language – especially when people understand where you are going and why. People like to know why. It is incredibly important in implementing data governance to think about why you are doing it. Watch our "Start with Why" video.
Communication is key in data governance. People like to be informed. Explain to them why data governance helps them and what is happening in the data governance project. Explain how data governance helps with data trust.
Do not expect success if the first thing you ask most people to do is create work rather than helping them. Remember to give before you get and import any content you have first before letting them know about the knowledge base.
Finally, talk and listen. You cannot help people if you do not know what they want. And it is easier to work with folks when you know them face to face.
It is people that are governed. Not data. It is people who enter in the data, look at reports, see data quality issues and who must trust the data. Data has no ability of its own to understand and abide by rules. Data needs some rules and some guidance therefore some ownership, processes, rules, and guidelines. Governing people is a difficult challenge in implementing data governance and requires skills in marketing, motivating, and managing across several organizational roles. Focus on the people and make sure that data governance helps them.
We hope that this blog acts as a reminder that data governance is not about control but about helping people (and the organization) be more efficient and effective.
IData has a solution, the Data Cookbook, that can aid the employees and the organization in its data governance, data stewardship and data quality initiatives. IData also has experts that can assist with data governance, reporting, integration and other technology services on an as needed basis. Feel free to contact us and let us know how we can assist.
Photo CreditTeacher with young people in computing class HS #B1114