When we talk about best practices in data governance (or data intelligence), we separate it into two main areas: framework (the how) and content (the what). This blog post will discuss these 2 areas and provide links to additional resources.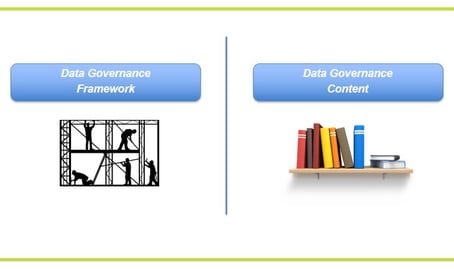 A framework helps an organization and its members on how to think and communicate about a project such as a data governance initiative. The Data Governance Framework suggested by IData is a pragmatic and actionable framework that assists data stakeholders from across any organization to come together with clarity of thought and purpose when working on their data governance initiative. The framework and its parts apply to new data governance initiatives or one that is being restarted. The IData framework will allow an organization to scale data governance and to take data governance to the next level. This framework will work for organizations of any size and in any vertical including those in higher education. A tool like the Data Cookbook establishes the framework necessary for success and is a place to store all necessary data governance content.
The data governance framework consists of 3 parts:
Establish your stewardship over your data (for more information access our blog post or video on the subject)
Establish a data governance knowledge base (for more information access our blog post or video on the subject)
IData has broken down data governance content into 12 areas:
Data deliverables catalog
Data lineage
Data access, security, sharing and privacy
Change management
Data policies
External data standards and reporting
For more information on data governance content, you can access our blog post or video on the subject.
Remember that you do not have to have all the content completed in each of these 12 areas before providing them to the data consumers. But you do have to have enough to be useful. Do not make a bad first impression by not having any relevant content to use by staff. Prioritize what content you need to get done (check out our video on this subject).
Hope that this blog post, on what is being governed (the content) in data governance and how data governance is done (the framework), was beneficial. All our data governance related resources (blog posts, videos, recorded webinars, etc.) can be accessed from our data governance resources page.
IData has a solution, the Data Cookbook, that can aid the employees and the organization in its data governance, data intelligence, data stewardship and data quality initiatives. IData also has experts that can assist with data governance, reporting, integration and other technology services on an as needed basis. Feel free to contact us and let us know how we can assist.
Photo Credit DGFramework_Content_BP #B1108