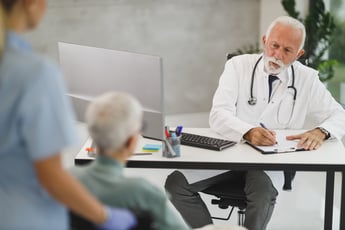 It is difficult to hire an expert on the data at your organization. Usually, this expertise comes from years of working at your organization. You do not want your subject matter experts (key data stewards) to be handling data governance-related requests that could be handled by a non-subject matter expert. Typical requests could be creating a new report, clarification on an existing report, reporting a data quality issue, or having a definition created. Check out our "Who is Requesting Data and the Types of Requests" blog post. It is more effective and less expensive to hire a person to triage the data requests that come in and handle the ones that they can. This person would have the data stewardship role of support/triage. Your data governance team could receive a wide range of requests (much like requests made to an information technology team that probably uses a ticketing system) every day, from the routine to the complex. To give each requester stellar customer service for their data governance-related requests, you need structure to your data governance and data intelligence. Data governance request triage is a way to organize and streamline how data-related requests are handled. This blog post will discuss what data governance request triage is, what it looks like in action and traits necessary in a triage person.
History of Triage
First, let's talk about the history of triage. The term triage comes from the French verb, trier, meaning to separate out or to sort. It was first used for medical purposes during World War I, when it referred to the way medics prioritized the treatment of soldiers wounded in battle. The term was adopted for business purposes to allocate limited budgetary and other resources (human) to competing needs. We believe that triage is perfect for data governance requests. Our recommendation is to put a data governance request triage process in place along with a triage person to save your valuable data steward resources and to resolve data governance-related requests quickly and effectively.
Data Governance Request Triage Defined
Data Governance request triage involves having a triage person in place and the process of categorizing and prioritizing requests and routing them, if necessary, to the data stewards best prepared to handle the request. Triage ensures requesters get the service they need when they need it. The triage person will first decide if a request needs any special attention, any additional information, or maybe can be handled by them without the need for an experienced data steward. Maybe the triage person can point the requester to a specific document in the data governance knowledge base and close the request without the assistance of a subject matter expert. If the triage person cannot handle the request, then the request is put into the data governance request process and sent to the appropriate data steward. Data Governance request triage can help organize an influx of requests and get the simple requests handled quickly and the more complex requests handled by the right data steward with the right urgency.
What Data Governance Request Triage Looks Like in Action
Here is how the data governance request triage process looks like in action:
The request enters the request queue via defined data governance points of engagement. Check out our "Understanding Data Governance Points of Engagement" blog post. Data consumers should know how to enter in data governance-related requests. This will be greatly helped if you have a data governance solution in place like the Data Cookbook.
The request enters the data governance request triage process and is reviewed by the triage person. The request is examined by the triage person for urgency, missing information, and if it can it be handled without other data stewardship involvement.
If this request is urgent, then the triage person routes it to the appropriate data steward depending on the technical expertise or functional area (such as Human Resources) required.
If this request is missing information or is unclear, then the triage person routes it back to the requester for this additional information. This will save subject matter expert time.
If this request can be handled by the triage person, such as referring requester to a specific piece of data governance content, then the request can be closed without subject matter expert involvement.
When necessary or if requested, the triage person communicates the status of the request to the requester.
When seen, the triage person can communicate to the data governance committee or data stewards on issues that can be fixed in the data or data governance process or the data governance knowledge base.
What the Triage Person Will Do
Here are some of the tasks that the triage person would do:
Efficiently and effectively handle incoming data governance requests and be the first point of contact.
Assess the urgency, severity, and impact of incoming requests to determine the appropriate level of response and prioritize them accordingly. Kick the request up to a manager or a data governance committee when appropriate. Collaborate with other team members to escalate complex or critical requests that require further expertise or resources.
Gather relevant information from the requester to better understand the nature of their request and gather missing or unclear request information so that the request can be handled effectively and efficiently.
Handle the request if possible, such as pointing the requester in the direction of a data governance knowledge base piece of content.
Provide effective communication with requesters, keeping them informed about progress of the request and coordinating with internal teams.
Contribute to the development and enhancement of the data governance processes, data governance tools (such as the Data Cookbook), and data governance knowledge base content to improve the efficiency and effectiveness of the organization.
Traits of an Ideal Triage Candidate
Check out our "Soft Skills and Traits of a Good Data Steward" blog post for more information on what's needed in a data steward and a triage person. But here are some traits that this triage individual should have:
Ability to think outside the box and find the right person to handle the request. Maybe it could go to a person who is not an official data steward (but might be someone who should be).
Passion for delivering great customer service and a strong commitment to client satisfaction.
Capability to work under pressure, manage multiple tasks, and prioritize workload while maintaining attention to detail.
Work well with cross-functional teams and effectively communicate and coordinate with others (requesters and data stewards) to ensure seamless service delivery.
Great communication skills – verbal and written.
Good documenter, be detailed and accurately record all relevant details of requests and resolutions, in the appropriate data governance solution (like the Data Cookbook) or ticketing system.
Some Other Thoughts
You are trying to eliminate the need for requests and data steward involvement as much as possible. As your data governance content gets better (report specifications, data quality rules, data catalog entries, etc.), data consumers can find the information they need in the data governance knowledge base. So, this self-service will save the organization time and money, and eliminate many requests.
You want to automate the data governance process as much as possible. This includes routing the requests to the appropriate data steward automatically after triage review and request approval.
Besides having a data governance knowledge base in place, you want to have data stewards in place so that requests can be sent to them. Make sure to place your data stewards in the right roles that align with their strengths. When the right data stewards handles a request, the resolution time will go down, and your data governance request costs may also decrease.
Data Governance Request Triage Make Your Organization More Effective
Solid data governance request triage:
Saves subject matter expert (data steward) time thus saving the organization money as some requests could be handled by the lower costing triage person.
Addresses the most urgent requests earlier and sends them to data stewards who are most qualified to help.
Helps boost data governance metrics, such as average resolution time, average request cost, and response time.
Since requests will be handled more quickly, greater trust in the organization's data will be gained as well as additional use of data governance content and processes. Usually this leads to additional requests which builds your data governance knowledge base.
We hoped that this blog post convinced you about the need for a data governance triage person. This individual will save time and effort of your more experienced data stewards. And this individual will make the data governance process run smoother, thus increasing the use at your organization.
Additional resources (videos, blog posts, recorded webinars) on data governance and data intelligence can be found at www.datacookbook.com/dg.
IData has a solution, the Data Cookbook, that can aid the employees and the organization in its data governance, data intelligence, data stewardship and data quality initiatives. IData also has experts that can assist with data governance, reporting, integration and other technology services on an as needed basis. Feel free to contact us and let us know how we can assist.
Photo Credit: StockSnap_RZCTEGBC2V_doctor_requesttriage_BP #B1265