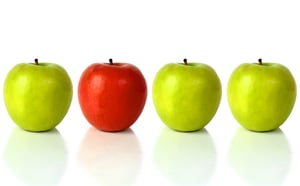 An earlier blog post summarized a method that listed 6 components to consider when writing a good business glossary definition. Now I want to discuss the first of the six components in more detail. The first component, "Identify Uniqueness Within a Category OR Describe the Item", is the most difficult component to grasp. Even the name of the component is awkward!
The component offers two mutually exclusive approaches, and the definition writer chooses to use one of them. The first approach is to "Identify uniqueness within a category" and the second approach is to "Describe the Item". Seventy percent of glossary definitions can use the first approach. For the remaining 30% of definitions, a category cannot be identified and so the second approach is a better choice.
To use the first approach - "Identify Uniqueness Within A Category", first identify a category. Often the category is a mundane word or phrase. Then, explain how the thing being defined is different from all other things within that category. Use a phrase or another sentence to articulate the difference.
Here are examples with the category in blue and the uniqueness in green.
Academic Advising: A process that assists students in the clarification of their academic and career goals.
Academic Advisor: The person who provides academic advising to a student in a formally acknowledged relationship.
Academic Credit: The quantitative value assigned to a course that can be applied toward the requirements for a degree or certificate.
Admissions Pipeline: The collective funnel that leads applicants through the Admissions process.
Let's take a look at the second approach, "Describe the Item". Use this approach when a category will not work, which is about 30% of the time. Use common sense to determine the level of detail that is helpful. Note that a category might be identified but instead of differentiating, the writer goes on to provide a description of the consequences of an action, or lists things that allow the reader to infer meaning.
Here are some examples with the descriptions in orange.
Audit: Term used when a student enrolls in a course, but does not wish to receive credit for the course toward a degree or other formal award.
Student Account Hold: A stop placed on a student account that blocks action within the student system for non-payment, no payment plan, academic requirements, not time to register yet, paperwork, and other registration requirements.
Career Services: A range of services including the following: coordination of employer visits to campus; aptitude and vocational testing, interest inventories, job search process, access to learning materials and more.
Profiling: Any form of automated processing of personal data consisting of the use of personal data to evaluate certain personal aspects relating to a natural person, in particular to analyze aspects conserving that person's performance at work, economic situation, health, personal preferences, behavior, or location.
When a writer begins a definition with either of these approaches, the definition will be meaningful and easy to understand. Both approaches are teachable to dozens of writers within an organization, and definitions can be objectively evaluated against either approach.
Hope this blog post helps in writing a good business glossary definition. If you need help in implementing data governance, remember that IData provides data governance services. A data governance solution like the Data Cookbook can help in successful implementation of data governance at an organization and improving data quality. Feel free to
.
(image shutterstock credit green apple with the red one standing out from the crowd - over a white background with reflection #1112)