An important data governance (also referred to as data intelligence) process to have is an established data request process that is known and easy to use. This process should provide accurate and trusted information. Often one data request leads to another data request. This blog post discusses the various components of the data request life cycle as well as the mentioning of available resources regarding data requests.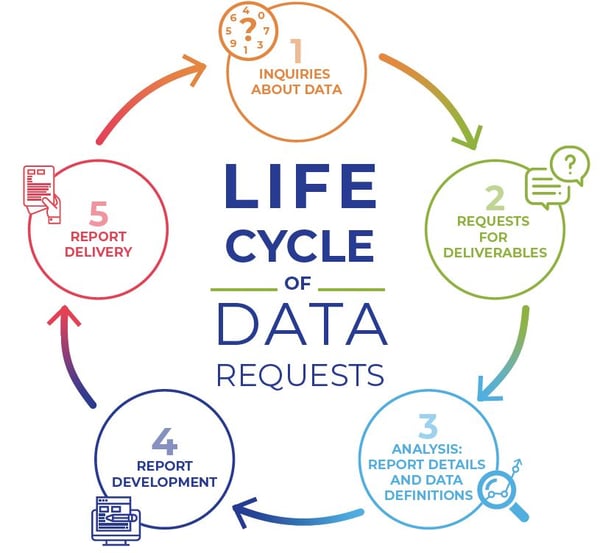 The life cycle of data requests consists of:
Inquiries about data which consists of external requests, internal requests/projects, search for existing reports, helping people find data or build reports (self-service) and assigning requests to analysts
Requests for deliverables which consists of extracts, reports, dashboards, integrations and APIs
Analysis of report details and data definitions which for each metric/element consists of functional descriptions, technical descriptions and review/approval
Report development which consists of complete requirements, build first draft, user testing / feedback, finish report to match requirements and identify data quality issues
Report delivery which consists of deploy for users and close request
Download our Life Cycle of Data Requests Infographic to get the best practices of the life cycle.
There are many types of data requests. Requestors can be internal or external to the organization. The importance of having a data request process in place include getting accurate and trusted information, being efficient, timely and cost-effective, improving customer service and enhancing reporting. Data requests are not just a two-person game at your organization. Many individuals are affected by that request and having the data request and the response in an easily accessible place is a tremendous benefit.
Use a tool like the Data Cookbook to handle your data requests so that all stakeholders can interact with the system as well as have integration with reporting tools and ticketing systems. And feel free to check out the additional resources we have created on data requests.
Additional Blog Resources
Additional Video Resources
Additional Recorded Webinar Resources
Additional data governance resources can be found at: www.datacookbook.com/dg.
IData has a solution, the Data Cookbook, that can aid the employees and the organization in its data governance, data intelligence, data stewardship and data quality initiatives. IData also has experts that can assist with data governance, reporting, integration and other technology services on an as needed basis. Feel free to contact us and let us know how we can assist.
(image credit DataRequestLifeCycle_BP #1005)